<![if !supportEmptyParas]> <![endif]>
<![if !supportEmptyParas]> <![endif]>
<![if !supportEmptyParas]> <![endif]>
RIPE 47 Social Event
<![if !supportEmptyParas]> <![endif]>
Pipe Organ Demonstration & Concert
<![if !supportEmptyParas]> <![endif]>
<![if !vml]>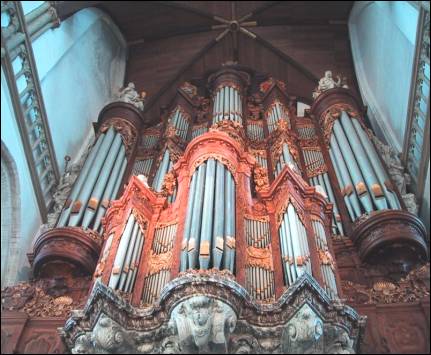 <![endif]>
<![if !supportEmptyParas]> <![endif]>
Tuesday, January 27, 2004 @ 18:00, Oude Kerk, Amsterdam
<![if !supportEmptyParas]> <![endif]>
One magnificent old church. Two organists. Three organs. Come see and hear some very unique instruments. The Oude Kerk is only a five-minute walk from the Krasnapolsky. Refresh­ments and surprises.
<![if !supportEmptyParas]> <![endif]>
The Oude Kerk (text taken from www.amsterdamorganconcerts.nl)
<![if !supportEmptyParas]> <![endif]>
The building of the Oude Kerk began around 1300, when Amsterdam was a small town on the river Amstel. The two organs during Sweelinck's tenure as organist (1577-1621) were built in 1539 and 1545 by Hendrik Niehoff. They must have been fine organs to inspire such a geat composer in that post for his entire career. (As a matter of fact, Sweelinck's bones are still in the Oude Kerk buried under stone slab number 100 or 101). Even during Sweelinck's time, the area around the Oude Kerk had been Amsterdam's "Red Light" district. The church, now mainly used as a museum, has a warm inviting feeling, despite of its size. The staff of the museum are laid back, friendly and helpful, and Matteo Imbruno, the organist there, is delighted to have visitors come to play the instruments.
<![if !supportEmptyParas]> <![endif]>
The acoustics are exceptionally beautiful due to the fact that remains of corpses are still laying between the sand under their tombstones, and above there is still the original wooden ceiling. This gives the music warmth, without obscuring the clarity. The small organ was replaced in 1658, after Sweelinck's death, by Hans Wolf Schonat (the builder of the main organ in Nieuwe Kerk). The 1964 Ahrend & Brunzema organ is housed in this case. In 2002 it was tuned into a 1/4 comma meantone temperament. The large organ was replaced in 1724 by Christian Vater, then enlarged by Casper Muller. It is interesting to experience the unusually heavy key action; this fact was also reported by organists back in the 1700s, including Georg Boehm. During the romantic period, the organ was altered to fit the tastes of the time (nicking of pipes, rescaling yet again), but much of the subtle beauty of an earlier time remains, particularly in the flutes. Thankfully, the hand-pumping system for the organ is still intact: one can employ three calcants in case there is a power failure, or if the organist simply desires a more settled winding for the pipes than an electric blower provides.
<![if !supportEmptyParas]> <![endif]>
More information: www.organdemo.info
<![if !supportEmptyParas]> <![endif]>
<![if !supportEmptyParas]> <![endif]>
Sponsored by
<![if !supportEmptyParas]> <![endif]>
<![if !vml]>

<![endif]>
<![if !supportEmptyParas]> <![endif]>
<![if !vml]>

<![endif]>
<![if !vml]>

<![endif]>
<![if !supportEmptyParas]> <![endif]>
<![if !vml]>

<![endif]>
<![if !supportEmptyParas]> <![endif]>
<![if !vml]>

<![endif]>
<![if !supportEmptyParas]> <![endif]>
<![if !supportEmptyParas]> <![endif]>
<![if !vml]>

<![endif]>
<![if !supportEmptyParas]> <![endif]>
<![if !supportEmptyParas]> <![endif]>
With support from C.B. Fisk Organbuilders
<![if !supportEmptyParas]> <![endif]>